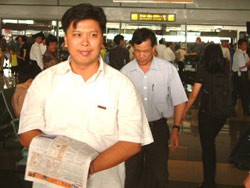 Nguyen Duc Chi before his arrest
The Khanh Hoa People's Committee decided on Wednesday to confiscate the land-use right certificate of the RIT Company, developer of the Rusalka Resort project.
RIT is owned by one Nguyen Duc Chi, who is under arrest for misappropriating billions from the Rusalka Resort project.
Well before the People's Committee announced its decision, the Ministry of Planning and Investment had already halted work on the half-completed resort, and revoked the investment license and the amended investment license.
In a report to the Prime Minister, the government's legal procedural agency suggested that he dismiss vice chairwoman Nguyen Thi Thu Hang of the Khanh Hoa People's Committee along with Mai Thi Thu, deputy chief of the ministry's investment department, for "intentional wrongdoing with serious consequences".
Investigators allege Ms. Thu did not propose confiscating RIT's investment license even though she realized Nguyen Duc Chi and his company had broken the law on several occasions.
Instead, Ms. Thu and the ministry suggested transferring the project's investment capital, something that is forbidden.
 
Ms. Hang is also alleged to have helped RIT get a lease for 13 more hectares and a seven-year exemption of land-use tax.
Although the PM had ordered the provincial authorities to tax RIT for the full 45 hectares, they apparently ignored the order even after several reminders.
Ms. Hang claimed to know nothing of the PM's directive, according to investigators.
The police filed a prosecution against Ms. Hang but the Supreme People's Prosecution Bureau dismissed it as some of the issues were too opaque for the prosecution's requirements.