Ho Chi Minh City People's Court sentenced a Singaporean man to life imprisonment on charges of smuggling.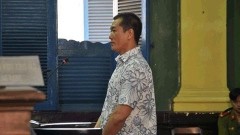 Huang Wen Gui at the trial in HCM City on April 8.(Photo:Vietnamnet)
Huang Wen Gui, alias Ng Boon Kwee or A Quy was also ordered to pay a fine of VND30 million by the court.
According to the indictment, during inspections of a warehouse in Thu Duc District in Ho Chi Minh City, the economic crime police seized DVD recorders, Sony TV sets, 125 cartons of playing-cards, 200 air-conditioners and a large quantity of other items without invoices or valid  documents worth a total of VND3 billion (US$150,000).
Police caught Huang Wen Gui, who claimed to be the owner of the goods and later confessed to having smuggled them from Singapore to Vietnam.
Earlier in 1993, Gui was sentenced to life imprisonment for smuggling goods to Vietnam, but was released six years later under a special reprieve. Until now, he has not paid the fine he was ordered to pay by the court 18 years ago.