The Inspectorate of the Ministry of Culture, Sports and Tourism summoned pop singer Dam Vinh Hung in Hanoi to decide his fine penalty of VND5 million (US$250) for kissing two Buddhist monks.
Earlier, Vu Xuan Thanh, the Ministry's Chief Inspector and Nguyen Thanh Nhan, head of the Performing Arts Department told media that they concluded that Dam Vinh Hung took advantage of the situation to draw the attention of his audience to indulge in such uncultured behavior.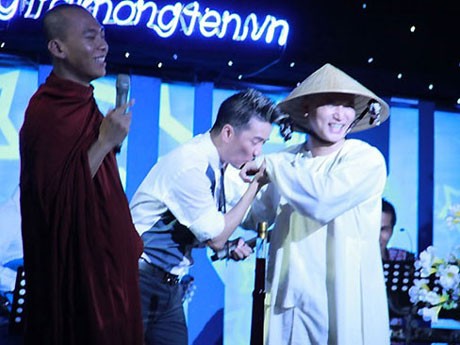 Singer Dam Vinh Hung kisses the hand of a Buddhist monk at the aution(photo VNNet)
According to Vietnamese law, the singer might be subject to a fine of between VND2-VND5 million.
As reported, on November 4, in a charity show in Ho Chi Minh City, Dam Vinh Hung offered a rare wine bottle for auction. Before the auction, he promised to kiss the auction winner.

The winners were two Buddhist monks, who bought the bottle for VND55 million ($2,500). Then Dam Vinh Hung hugged and kissed the younger monk on his lips and the older monk on his hand.
Same sex kiss between the male singer and the monk made the audience gasp in fury.
The video clip of the kissing scene then went viral on the Internet and received harsh comments. Many people considered this image very offensive, especially in an Asian country like Vietnam where Buddhism is a majority religion.
Furthermore, in Vietnam same sex love is still not tolerated and the public find it harder to witness a same sex kiss on a monk in a televised show.
As soon as the incident was reported by the local media, the two monks were identified and they too were penalized by being banned out of the monastery for three months by the HCMC Buddhist Shangha.
Although the two monks got pretty strict punishment, the public anger has not yet subsided. Many people demanded that singer Dam Vinh Hung be punished for portraying a bad image in public.