The Supreme People's Procuracy will prosecute six people who hung defamatory banners and distributed leaflets for "propaganda against the State of the Socialist Republic of Vietnam."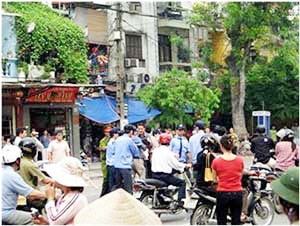 People watch the arrest of Nguyen Xuan Nghia at his home in Hai Phong. He and five others are being prosecuted for "propaganda against the State of the Socialist Republic of Vietnam." (Photo: Hai Phong newspaper)
The defendants are Nguyen Xuan Nghia, 60, former member of the Hai Phong City Writers' Association; Nguyen Manh Son, 66, former director of a mechanical repair enterprise; Nguyen Van Tinh, 67, of Hai Phong; Nguyen Van Tuc, 45, of Thai Binh; Ngo Quynh, 25, of Hanoi; and Nguyen Kim Nhan, 60, of Bac Giang.
According to the indictment, they hung banners distorting the Government's policies at Lach Tray overpass in Hai Phong on August 16 last year.
In August and September Mr.Nghia organized hanging of banners and scattering of leaflets against the Party and State in Hanoi, Hai Phong, and Hai Duong. He also informed overseas reactionary elements about the acts for posting on the Internet.
In 2007 he joined Bloc 8406, a reactionary political organization led by Nguyen Van Ly and Phan Van Loi.
He has since written 57 articles, poems, and short stories for the bloc to use in its propaganda. Many of them contain arguments against the State and demands for pluralism and multi-party politics.
The defendants disseminated printed materials that distort the Party and State's policies, accuse the Government of violating human and democratic rights, and incite subversive acts against it.
Besides the six some other individuals involved in the case would also be tried under the law, the prosecutor's office said.  
The case will be tried by the Hai Phong People's Court soon, Nguyen Van Thanh, the head of the city People's Procuracy, said.