Six members in a wood magnate family were killed in a massacre in the southern province of Binh Phuoc on July 7, while his youngest daughter, 18 months old survived the tragedy.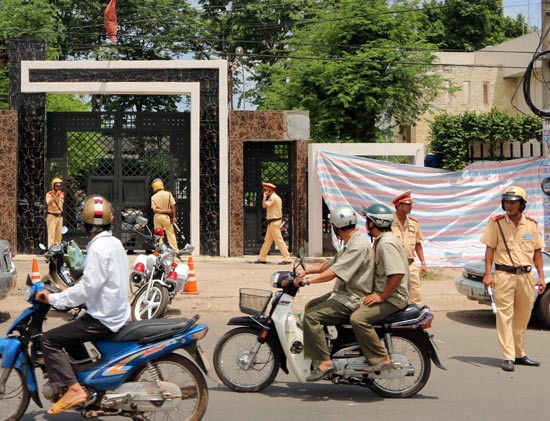 The house where the massacre takes place (Photo: SGGP)
Residents in Minh Hung commune, Binh Phuoc Province's Chon Thanh District are frightened by the massacre with six who had cut the throats.
At a press conference, Major Dao Van Them from the province police station, said that as usual Doan Thi Cam Loan, the family's housemaid, came to begin her work when she found the wood processing magnate Le Van My, 48 and his 44-year-old wife, Nguyen Le Anh Nga, and their two children Le Quoc Anh, 15 and Le Anh Linh, 22 and two relatives Du Ngoc To Nhu, 18 and Du Minh Vinh, 14, were found unresponsive inside their villa in Chon Thanh District at 7:00 am on July 7.

Colonel Tran Thang Phuc, head of the province police station, arrived in the house to directly guided investigation. 30 policemen from The Police Department of Criminal Investigation in Social Order (C45) and the Department of Criminal Technique (C54) under the Ministry of Public Security examined to the spot.
Lieutenant General Trieu Van Dat, Deputy Head of General Police Department of the Ministry also came to the spot for the investigation.

Major Dao Van Them asserted the youngest daughter of the family escaped from the massacre without any injury. He said that this massacre aimed to robber property; however, camera system in the house was broken down as in these recent days,
The villa is surrounded by high walls, whereas his wood processing facility is located next to the house. The electricity had been cut therefore, camera system stopped working.

Major Dao Van Them said that as people in the house died all, investigation police could not know which property was robbed.

About reporters' question over the detention of a man, Mr. Them said that police has questioned some suspected people yet no-one was arrested.

The wood processing magnate was known as one of the richest in the district, and his facility, with around 100 workers, is among the largest of its kind in Binh Phuoc.

As per the latest news, Vietnamese Minister of Public Security General Tran Dai Quang asked all police forces to participate in the investigation.
The policemen are searching for the suspects.