The People's Procuracy in Binh Duong Province, decided on May 31st to prosecute skipper Nguyen Van Duc and boat manager Lao Van Quang of the Din Ky Tourist Company for the tragic boat accident that killed 16 people.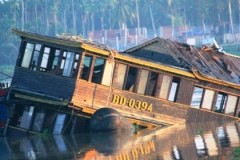 Din Ky restaurant boat that sank on May 20 killing 16 people, including some children.(Photo: Dan Tri)
Duc was prosecuted for violating waterway traffic regulations that caused the accident. Quang was prosecuted for violating regulations of hiring unlicensed personnel and failing to check the safety standards of the boat.
Nguyen Hoang Thao, deputy director of the provincial Police Department, said that all individuals and organisations would be punished under law if they were found in any way connected to the accident.
On the same day, the relatives of four Chinese nationals who died in the accident met with representatives of the Din Ky Company to deal with compensation and for the return of the bodies to take back to China. However, the two sides have failed to reach an agreement.
Yesterday, relatives of the four Chinese nationals including 19 other people agreed to a settlement of US$68,000. Din Ky Company will give 50 percent in advance of the total amount. However, by the evening of the same day, relatives of the four Chinese nationals refused to take the money, because they wanted Din Ky to settle other issues such as compensation for their moral loss.
The demand for compensation has exceeded Din Ky Company's ability and does not meet with Vietnamese rules. Din Ky Company had to stop dealing directly with the Chinese relatives and asked local authorities to resolve the issue.
Currently, the bodies are in Cho Ray Hospital.
Related articles:
Din Ky touring ship facilities forced to close down
Tours suspended in Din Ky Tourist Area