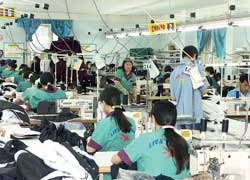 Unlike other companies working in garment industry, KANA AN SG sold its imported materials to avoid tax.
Millions of US dollars of textile materials and clothes were smuggled into Viet Nam by a 100% foreign invested limited company, announced the Ministry of Police on April 17.
The Ho Chi Minh City Customs Department, in cooperation with the Ministry of Police, discovered more than one million meters of textile fabric for tent making, worth over US$2 million, and dozens of tones of materials for textile garment products and clothes, worth millions of US dollars, smuggled into Viet Nam.
Scheming to avoid tax, the KANA AN SG limited company, headed by General Director Kim Young Sang, had sold its illegally imported textile materials in the domestic market, instead of processing them for exporting.
Established in 1994, the company has specialized in producing and processing fabrics for tent making, sport bags and clothes.