The People's Court in Soc Trang Province on July 16 sentenced Tran Van Tan, former director of a local drivers training center to 17 and a half years in prison on charges of gambling and appropriating assets.
Five others received two to 12 year sentences.
Tan was charged with gambling and appropriating assets while Nguyen Thanh Leo, former deputy director of the Soc Trang City Department of Transport, and Dinh Van Muoi, former chairman of the City Party Committee's Commission for Inspection, were charged only for gambling.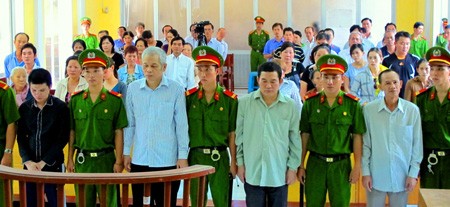 Tran Van Tan and five other defendants at the trial (Photo: SGGP)
Leo received five years while Muoi received four years. Ngo Hue Phan, the woman who was running a gambling-den also received a two year prison term.
Two other defendants, Nguyen Thanh Hung, 50, a loan-shark and a gambling broker in Soc Trang, and his son Nguyen Thanh Truyen, were tried for appropriating assets. They each received 12 year prison terms.
The court also ordered confiscation of VND1.5 billion (US$72,000) and six taels of gold from Tan, VND5.9 million from Leo, VND400 million from Phan, VND435 million from Muoi, and VND90 million from Truyen. This money was considered illegal as it had been gained through gambling.
The court also made null and void the contracts for sale of three pieces of land Leo had bought from others to repay Tan, who later sold the land. The court ordered the land be returned to the legal owners. Tan also had to reimburse the money to the land buyers Quach Minh Chau of VND140 million, to Duong My Quynh VND100 million, to Trieu Khanh Ly VND800 million, and to Thai Hai Tri VND750 million.
As per the indictment, between late 2008 and late 2011, Leo and Tan played Chinese chess at different locations in Soc Trang for money, with some VND5 billion ($238,000) per game.
By the time he was arrested in late 2011, Leo had lost a total of VND40 billion including pieces of land to Tan. Leo had paid Tan VND16 billion but failed to pay the remaining amount of VND24 billion.
Due to Leo's insolvency, Tan hired Hung and Truyen to threaten Leo, forcing him to repay his debts.
At the same time Leo also played Chinese chess with Muoi in the billiard café owned by Ngo Hue Phan. Leo finally lost VND1 billion to Muoi. Phan received an illegal payment of VND435 million for acting as a mediator.
On December 22, 2011, police in Soc Trang caught Leo and Tan playing Chinese chess for money at the Thy Tai 2 billiard café in the city. The police seized VND56.4 million ($2,700) and promissory notes from the two men. The police then decided to bring the case to the court.