HA NOI (VNS) — Ha Noi police have summoned four people for spreading rumours about infections of the deadly Ebola virus in Viet Nam on social media that have sparked panic in the community during the past few days.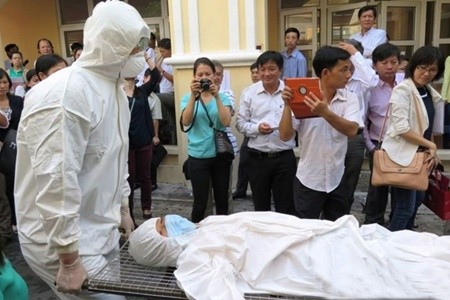 A rehearsal on Ebola prevention and control in HCM City. Ministries have worked closely to try and detect and quarantine suspected cases early. — VNS Photo Courtesy of news.zing.vn
Do Thuy Linh, 29, from the northern province of Hung Yen; her husband Vuong Ba Huy, 31, from Ha Noi; Vu Huong Thao, 23 and Nghiem Thuy Trang, 30, both from Ha Noi were summoned to take part in the investigation.
Initial findings showed the four individuals posted rumours of the Ebola virus spreading in Viet Nam on their Facebook on Monday, resulting in the claims spreading across social media.
At the police office, they admitted to posting incorrect information about the Ebola virus in Viet Nam, claiming they had wanted to raise public awareness and guide people in preventing the disease.
The Ministry of Health held a press briefing on Tuesday to scotch the rumours and confirmed that Viet Nam was yet to record any cases of Ebola virus infections.
Under current regulations, it is illegal to post information on the Internet that causes social disorder and has serious consequences. Such acts may be punished with prison terms between six months and seven years, depending on the seriousness of infringements.
Offenders could also face fines between VND20-200 million (US$ 950-9,500).
The Ministry of Health has worked closely with other ministries and public agencies to closely monitor visitors to Viet Nam at border gates and in the community to detect and quarantine suspected cases early.
A training course organized by the ministry was also held in Ha Noi on Wednesday to educate health workers in northern Vietnam about preventive measures against the deadly virus. A similar course was also being held for medical staff in southern Vietnam yesterday.
Meanwhile, the Agency for Overseas Labour Management under the Ministry of Labour, Invalids and Social Affairs, has required labour export companies to raise awareness of the epidemic among guest workers, particularly those working in Ebola-hit areas. The companies have also been advised to suspend sending labourers to high-risk regions.
Ebola is a severe acute viral illness often characterised by the sudden onset of fever, intense weakness, muscle pain, headache and sore throat. This is followed by vomiting, diarrhoea, rashes, impaired kidney and liver function, and in some cases, both internal and external bleeding.
Ebola was introduced to the human population through close contact with the blood, secretions, organs or other bodily fluids of infected animals.
The disease has then spread through human-to-human transmission, with infection resulting from direct contact (through broken skin or mucous membranes) with the blood, secretions, organs or other bodily fluids of infected people, and indirect contact with environments contaminated with such fluids.
By August 12 as many as 1,848 people infected with the Ebola virus have been confirmed, including 1,013 deaths. Most of the infections and deaths are reported in the four West African nations: Guinea, Liberia, Nigeria, and Sierra Leone, according to the World Health Organisation.
Three students returning from Nigeria, one of the four countries that reported the spread of the Ebola virus, have been under close observation by the Ministry of Health.
The three Nigerian students are studying at the FPT University in Ha Noi.
Two of them entered Viet Nam on August 8 whereas the other entered the country on July 31.