On Wednesday, Khanh Hoa Province's local authorities seized some 850 turtles that had been illegally kept and bred by a local resident. The sea animals were later freed into the wild.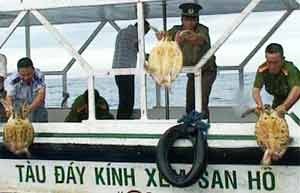 Environment Police release the turtles back into the sea (Photo: Vietnam Net)
At 8:30am, the province's Environment Police, in coordination with local border soldiers and the department of Agricultural and Rural Development's Fisheries Inspection Agency, raided the house of Mac Tien Nang, resident of Nha Trang City, and found 849 turtles, weighing between seven and eight kilos each, being illegally kept and reared in ten different cages.

Nang said that since October last year, he had bought the turtles from local fishermen at different periods, from five to ten animals each time.

All the turtles were seized and released into the Nha Trang Sea Reserve, while Nang was forced to pay fines for his illegal keeping and breeding of wild animals.

The investigation continues.

Sea turtles are an endangered species, which appear high on the list in Vietnam's Red Book, as well as on the list of threatened species of the Convention on International Trade in Endangered Species in Wild Fauna and Flora (CITES).

Turtles are reported to have still existed in Nha Trang Bay until the early 1980s and then began to disappear due to illegal fishing activities.

In 2001, the Sea Reserve of Mun Island, now Nha Trang Sea Reserve, funded by the Denmark government and a number of international organizations, was established.

Strict regulations have been issued for the purposes of preventing sea creatures from extinction ever since. Thanks to such efforts, turtles have recently returned and laid eggs in the eastern coast of Mun Island.