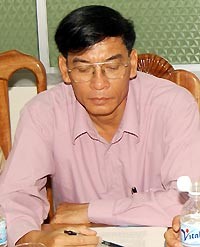 Nguyen Hoang Thu
Police investigators said Nguyen Hoang Thu, former director of the Sports Department of Nghe An Province, has confessed that he was involved in the match fixing scandal bringing the Vietnamese Football League trophy to the province's Song Lam Nghe An Club in 2001.
C14 – the police investigation bureau on social crimes – said on March 14 that Thu is facing charges of giving bribes to "buy the trophy".
With the championship, Nghe An Province Sports Department was awarded a grade-two Labor Order.
Nguyen Thanh Vinh, who was coaching the club that year, is also facing the same charges. Police said Thu and Vinh ordered their assistant Nguyen Huu Thang to offer VND300 million in bribes to some players of the Saigon Port Club. Then, Saigon Port beat Nam Dinh 5-0 in the final round of V-League 2001, putting Song Lam Nghe An on the top of the league.
Vinh was arrested in August 2005 as the coach of the Eastern Asia Bank-Pomina Steel Club in another match fixing scandal. He offered bribes to some referees after his club was promoted to V-League from the first division. 
Police are questioning some Saigon Port players involved in the 2001 scandal. Truong Tan Hai, one of them, was arrested for allegations that he had received money from the Song Lam Nghe An Club. Some other Saigon Port players have confessed to police that they received money from Hai.