The director of a major State-run farm in Can Tho City will be prosecuted for mismanagement, deliberate violation of regulations, and illegal activities that have cost the farm millions of dollars, city police said on Tuesday.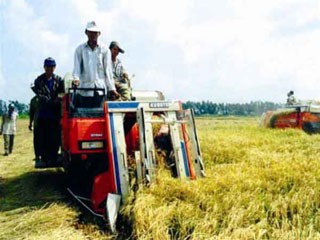 Farmers harvest rice on Song Hau Farm
Tran Ngoc Suong, 59, has been let out on bail, while the charges are pursued, they added.
Earlier, three former officials of the farm involved in the case were detained for four months, including the deputy director, cashier and chief accountant.
 
Investigators allege loose management by Suong resulted in the Song Hau Farm suffering losses for many years. The farm has overdue debts of around VND230 billion (around US$13.8 million) with local banks, they said.
From 2002 to 2005, the farm's management recklessly signed 20 contracts with seven companies and many individuals, causing losses of VND5.5 billion, which was appropriated by the companies and two individuals.
They also spent VND9 billion from the farm's budget to purchase 39 lots of land in the name of other people. The spending was not recorded in the books. In addition, they used as many as 1,600 hectares of the farm's land to set up a land fund illegally.
Investigators also allege the management collected paddy worth a total of VND33 billion (nearly US$2 million) at 1,000kg/ha from farm members as against the regulated 830kg. This sum was not entered into the books, and was spent randomly.
They illegally erase debts of VND10 billion and US$14,000 for more than 20 farm members and others.
From 1994 to 2007, the management also set up a slush fund of VND29 billion (US$1.74 million) and spent the entire amount on gifts and real estate transactions.
The State Inspectorate of Can Tho City says the board of directors of the farm have inflicted losses of nearly VND61 billion (US$3.65 million).