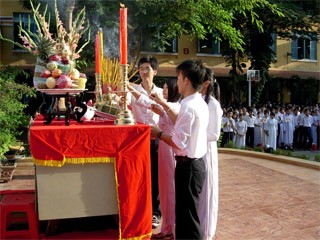 Pupils of Tran Khai Nguyen highschool worship Hung King's altar on death anniversary ceremony last year(Photo:U.Phuong)
The Vietnamese National Assembly (NA) has agreed to establish a holiday for the country's 13 million employees to observe the anniversary of King Hung's death on April 26.
On the same day, the NA discussed laws as they pertain to the chemical industry. Stricter control and surveillance of the sale and purchase of chemicals in order to protect human health and the environment is necessary, said NA members.
However, the law must also ensure the sustainable development of the economy and keep pace with world trends.