Deputy Prime Minister Hoang Trung Hai has asked ministries and concerned departments to implement strict surveillance of border areas to prevent smuggled goods from entering the country in wake of the coming Tet Lunar New Year.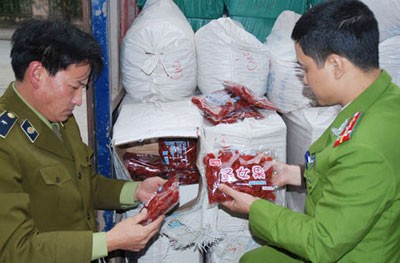 Police check a batch of smuggled goods (Photo: Cong An Nhan Dan)
As Lunar New Year approaches, commodities such as gas, coal, cigarettes, foreign wines, clothes and food items are already beginning to flow into the country in abundance across the borders in the Northern Provinces.
Deputy PM Hai stressed that ministries and local authorities should increase surveillance and control over key border areas and crack down firmly on smuggling and trading of counterfeit and prohibited goods.
He asked authorities to step up vigilance along border gates, international ports, canal ways, railways, roads and waterways to prevent illegal commodities from entering the country.
Ministries and concerned departments have been asked to work with the government, city authorities, management of border economic zones, and commercial areas which are import and export smuggling hotspots, such as Tan Thanh in Lang Son Province, Cau Treo in Ha Tinh Province, Lao Bao in Quang Tri Province, Moc Bai in Tay Ninh Province.
Deputy PM Hai has assigned the Ministry of Industry and Trade to establish a working group to check all illegal trafficking, trade fraud, fake and banned goods at border areas and in major cities. The aim is to control the flow of illegal goods from entering the market for sale during the Tet holiday season (Lunar New Year).