Vietnamese police yesterday arrested four among the fourteen suspected culprits who disseminated a 16-minute erotic video clip featuring a young popular actress and her boyfriend on the Internet on October 15.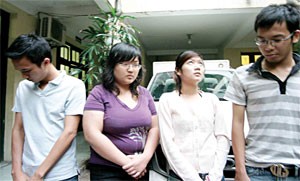 The four arrestees
The four are all students ­– Nguyen Thu Linh, 21, of the London Fashion School, Vu Thi Thuy Linh, also 21, of the Thang Long Private University, Vo Thanh Hiep and Nguyen Huu Tai, both 25 and students at the FPT–Arena Institute. Tai, who also works freelance for the Vietnam Television Station's VTV6 channel, has his own porn website through which he disseminated the clip.
The girl in the clip is popular soap actress Hoang Thuy Linh, who is attending the Theater and Movie University while her partner is Vu Hoang Viet, a Vietnamese student studying in the United States. Viet filmed their 'act' on his laptop which he later unthinkingly lent to his friends and accidentally let out the whole thing.
Linh used to play as Vang Anh in the popular TV soap opera for teens "Nhat Ky Vang Anh" (The Oriole's Diary) until the series was cancelled after her flick went out.
I don't know it is illegal
Vu Thi Thuy Linh told Sai Gon Giai Phong she did not realize that posting porno movies on the Internet is illegal, adding naively she just wanted to share the flick with her friends.
"I don't know Hoang Thuy Linh personally. I just hear she is a favorite actress, a teen idol but what she has done [as shown in the clip] is proving that she's undeserving of such an honor, so I've posted the video clip on the internet so that my friends can realize her true nature."
Senior lieutenant-colonel Nguyen Duc Binh, head of the Investigative Police Bureau on Social Order Crimes, said that the act of Vu Thi Thuy Linh and her accomplices has caused an adverse impact on social moral standards, especially on the youths.
The police are investigating further, Mr. Binh added.
Major-general Nguyen Duc Nhanh, director of the Hanoi police force, called for strict punishments against such offences.
Mr. Nhanh added that this is a new kind of crime as the culprits have disseminated the porn just for fun and for others' curiosity and not out of personal vendetta.
The police suspect at least 12 others are involved.