After two months of investigation by the Ho Chi Minh City police, four people are to be prosecuted for an international phone call scam, which cost phone companies billions of dong in lost revenue.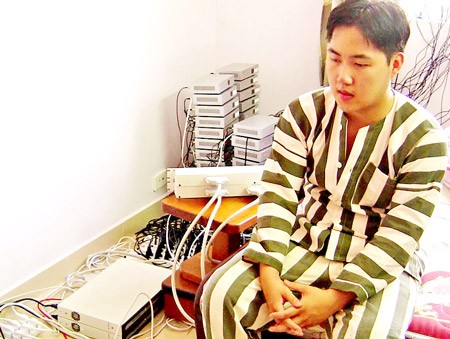 A Chinese man who was arrested in another case of stealing telecom fees (Photo: SGGP)
The four have been blamed for causing damage and losses to Vietnam's telecommunication industry.
In November last year, the city police coordinated with the Department of Information and Communications discovered that Tran Vinh Truyen, 48, in Tan Phu District was allegedly selling cheap international calls by using domestic lines.
Truyen allegedly rented the house to install and operate telecom appliances, including an Internet line, switches and gateways.
Truyen was said to have also rented another apartment in the district to transmit and sell international calls.
From May to November last year, the money that Truyen got from this activity totaled VND1.5 billion ($86,000).
Three others who were arrested for the same offence are: Phan Vy Hung, 29, Ly Quoc Xuong and Lao Ca Hong, 54, who rented various places in districts 8, 11, 12, Tan Binh, Tan Phu and Binh Tan.
They allegedly caused losses of VND8.3 billion ($471,000) to the state.
Difficulties in preventing and dealing with telecom criminals
Le Manh Ha, director of the HCMC Department of Information and Telecommunications, said that his department has applied many solutions to prevent telecom criminals.
However, it has become more difficult because criminals have used more sophisticated tricks.
One way that the department has used to detect illegal phone users was to get telecom companies to provide information when they discovered any unusual signals.
From these signals, the department will investigate possible telecom criminals.
Since 2005, the department has coordinated with other relevant organizations to discover 21 cases.
Apart from difficulties in telecom criminal prevention, the authorities also have a headache in dealing with the criminals.
Senior Lieutenant-Colonel Nguyen Minh Thong, deputy head of the city's economic police department, said that in most cases of telecom criminals, domestic telephone subscribers are Vietnamese who were also paid to run the telecom system.
The real instigators are foreigners who paid the rentals, Internet and phone charges.
However, when the cases were discovered, the criminals ran away and the employees arrested.