About a month ago, police in Thanh Hoa Province used fishing nets to apprehend speeding motorbike drivers who were violating traffic rules, a method that is being hotly debated by the public.
Police were catching speeding motorbike drivers who were violating traffic rules by not wearing helmets, racing each other and crossing speed limits, by throwing fishing nets over them.
Commenting on the use of fishing nets by the police to nab speeding motorcyclists, some people supported the method while others voiced their concern as being dangerous and unprofessional.
Colonel Trinh Xuyen, head of the Thanh Hoa Police Department, confirmed with SGGP that use of fishing nets had proven effective in nabbing speeding motorcyclists, as the Thanh Hoa city traffic police had demonstrated. People said they support the new approach of the Thanh Hoa police as a quick and effective measure, he said.
"It seems unprofessional for the Thanh Hoa police to use such a primitive method that has never been used as a means to control speeding drivers, but in my opinion, when a police officer throws a fish net on the rear wheel of a motorbike, it forces the driver to slow down and stop. Such a method is useful not only for the traffic police but also for the criminal police to nab robbers trying to make a get-away on motorbikes", he explained.
"Despite being termed unprofessionalism, this method is certainly very effective for the time being. When the net clings onto the wheel of a bike it causes the vehicle to slow for a moment before stopping or falling. This gives the driver enough time to react without getting hurt", Col Trinh Xuyen stated.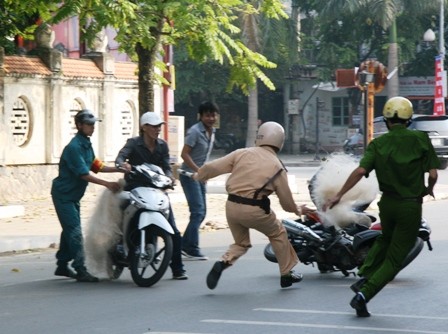 Thanh Hoa traffic police officers use fish nets to stop speeding motorcyclists (photo Dan Tri)
However, he said, there is no legal basis yet for applying this method to stop speeding drivers or those driving dangerously.
So far, the local police have used fishing nets to apprehend 32 motorbike drivers and no complaint has been filed by the public.
However, Col Xuyen promised to review this methodology in a scientific, functional and effective way.
People suggested that the police should ask scientists and road experts to create special devices to use for the same purpose that are effective as but safer than fishing nets.