Undeterred by the cold weather, thousands of people came to attend the first day of trial of 18-year-old killer Le Van Luyen, early morning of January 10.
Hundreds of policemen and soldiers were mobilized to guard the court house in fear that the victims' relatives would agitate and create disorder.
18-year-old killer Le Van Luyen, who is facing charges of murdering three persons in a gold shop in Bac Giang Province, was appointed a lawyer by the court since he had not yet hired one, said the local police chief.
Luyen did not ask for a lawyer, but under Vietnamese law it is mandatory for minor defendants to be represented by a lawyer.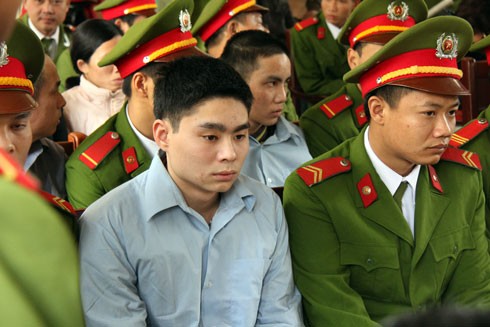 18-year-old killer Le Van Luyen at the trial
As per the lawsuit, early morning of August 24, Trinh Van Ngoc, owner of the Ngoc Bich Jewelry Shop in the northern province of Bac Giang, his wife Dinh Thi Chin and daughter Trinh Phuong Thao were found murdered at their premises.
Another daughter, nine-year-old Trinh Ngoc Bich, had her right arm chopped off by the attacker.
Several hours after the murder, the local health centre informed the police of a young man that had been brought in by another person for treatment of hand injuries. On a hunch, the police were sure that the wounds on this man's face and hands had been caused by grappling with the murdered man and wife.
The police later identified the injured man as Le Van Luyen, 18, from Thanh Lam Commune in Luc Nam District, and his companion as Hong, who was also arrested later.
The police then decided to search Luyen's house, but he had fled by then.
They found a sword and about 50 taels of gold (1 tael = 1.2 ounce) bullion, 12 gold chains, 199 gold rings, 59 necklaces and five precious stones worth US$135,000 buried underneath the ground behind a pigsty in Luyen's house.
The police later arrested Le Van Mien, 42, Truong Thi Thom, 38, Le Van Luyen's parents, for "hiding a criminal," while Truong Van Hop, 47, the father of Truong Thanh Hong, 19, was taken in for "not reporting a crime," the police said.
Luyen was arrested in Lang Son Province on August 31 as he was returning to Vietnam from China, where he had fled for three days but had to return as he could not find a place to stay.
Bac Giang Province Police Department reported during questioning after his arrest that Luyen confessed to acting alone in the murder.
At the trial, Luyen cold-bloodedly admitted to the killing of Trinh Van Ngoc, the 37-year-old jeweler, his wife Dinh Thi Chin, 35, and daughter Trinh Phuong Thao, nine months, on August 24 in a robbery attempt.
He also admitted to having mercilessly chopping off the right arm of Trinh Ngoc Bich, another daughter of the couple, who didn't attend the trial because she has not yet recovered from the shock.
Luyen's testimony matched the report from the crime scene and the evidence collected, according to the People's Procuracy of Bac Giang Province.
The victims' relatives and the crowd were angry at the murderer's confession. Trinh Quoc Sinh, authorized by the victims' family, requested Luyen be given capital punishment. Besides Luyen and his family must bear funeral expenses of all the victims and the cost of looking after Bich until she reaches the mature age of 18.