Police in the central province of Khanh Hoa have arrested three Bulgarian nationals for using fake ATM cards to illegally draw out money.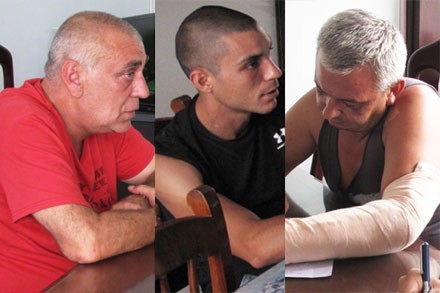 Three Bulgarian men arrested for using fake ATM cards to steal money of ATM cardholders -( Photo: Lao Dong Online)
From a tip off by the Bank for Investment and Development of Vietnam in Khanh Hoa Province, police tracked the three Bulgarian men who used electronic equipment to steal information from ATM cardholders and then created and used fake ATM cards to appropriate money from these cardholders' accounts.
The men named are Korneev Valentin Nilolov, 53, Genov Aleksandar Simeonov, 44, and Dimitrov Lliyan Plamenov, 26. They entered Vietnam on August 16, 14 and 30, respectively.
Police raided their hotel rooms and seized 214 fake ATM cards, US$13,000 and VND105 million (US$ 4,974) in cash, five mobile phones and many kinds equipment the men were using to appropriate money.
The police are now expanding their investigation even further.