Police in Binh Duong Province on May 12 caught three people illicitly extracting and trading cooking gas to sell to unsuspecting consumers.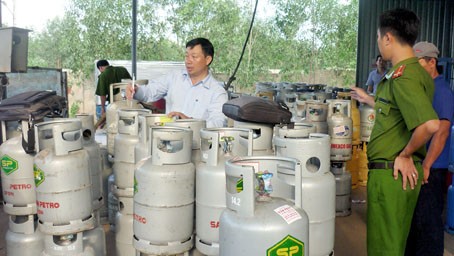 Police conduct a raid at the Gas Viet Company facility
Police seized 125 filled mini-gas cylinders and 32 empty cylinders, one weighing scale and a gas extracting machine at the residence of a man named Nguyen Thi Hong Thu.
Earlier, police had caught Nguyen Van Nguyen red-handed as he was illegally extracting gas in his house. At that time they seized 200 mini-gas cylinders, four 12-kilogram cylinders and one gas extracting machine.
At Tran Thi Hoai's house in the province, police seized 350 mini-gas cylinders and two gas extracting machines.
Last month, three people were arrested for illegally extracting gas from a local producer in Thuan An Town in the southern province of Binh Duong.
Police seized 2,100 mini-gas cylinders, six 45kg canisters, seven 7kg cylinders, and equipment used to illegally extract gas.
The suspects told the police that they were working for a man living in Ho Chi Minh City and had received VND50-60,000 (US$2-$3) for filling up 300 mini-gas cylinders.