Vietnamese police have just arrested three employees of Taiwan-based China Airlines in Ho Chi Minh City for allegedly pocketing almost US$5.7 million from the carrier, a source from the Police Department of Criminal Investigation said Tuesday.
The arrested are accountant Diep Kinh Chi, cashier Lu Cam Hy and Pho Vi Nhat.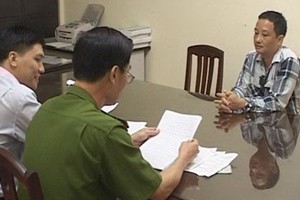 Pho Vi Nhat (R) questioned by police (Photo source: Tuoi Tre)
According to the police, since March 2009, the cashier had taken part of money from agents and balanced with money received the next day. Chi, the accountant, had reportedly colluded with the cashier in this fraud.
Chi was said to have made fake papers fit to the balance.
The three arrested said they had misappropriated almost US$5.7 million from China Airlines.
Police are investigating the case.