Only a week after four Chinese children who had been smuggled into Viet Nam were returned to their families, three other Chinese children were discovered and rescued by the Vietnamese police on their way to Cambodia on May 23.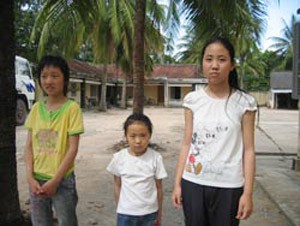 The three Chinese children just rescued from a ring trafficking children.
The group was first detected by the Police of Ben Cau District, Tay Ninh province in southwestern Viet Nam. In early May, the Police was tipped off about a ring trafficking children from China to Cambodia via Viet Nam.

Through elaborate information gathering and investigation, Ben Cau District Police were able to verify the information and an immediate plan to nab the ring was hatched

On May 20, police detectives found out that N.V.N living in the northern province of Hai Duong received three Chinese children, aged 9-14, and hired a passenger car to take them to the South.

The Police of Ben Cau District, Dong Nai Province, Ho Chi Minh City (HCMC) and the Police Bureau of Criminal Investigation on Social Order under Ministry of Public Security together drew up a plan to urgently catch the criminal and rescue the children.

A group of detectives secretly followed the criminal and protected the children all along the 2,000 kilometer journey from Ha Noi to HCMC. Suddenly N. stopped at Cat Lai T-junction (District 9, HCMC) and transferred the children to a taxi at 19:30 on May 23. Then the taxi headed for Binh Duong province in the north of HCMC and stopped at Tam Binh market (Thu Duc District, HCMC).

At that time, two men on a motorbike rode close to the taxi to collect the children. Immediately, detectives charged in and caught them.

At the police station in HCMC, N.V.N and the other two men confessed to trafficking children. Afterwards, they were sent to the police station of Ben Cau District for further investigation.
The caught criminals have trafficked dozens of Chinese children, aged 7-14, to Cambodia via Viet Nam. The group of children rescued on May 20th are Zhang Li Wei, 14, and her sister Zhang Hai Lun, 9, residing at 56 Yan Qi Street, Wen Chou City, Zhe Jiang Province. Xu Xiao Qiu, 14, living at 11 alley 3, Fu Wuan Xi Street, Rui An City, Zhe Jiang Province.




Related articles:
Four Kidnapped Chinese Children Return Home
Over 40 Foreign Kids Fall Victim to People Traffickers
30 Hours to Rescue Four Kidnapped Chinese Children
Four Kidnapped Chinese Children Rescued in Viet Nam after 5 Days