The Ho Chi Minh City People's Committee is at a loss over two opposing decisions from the Government Office and the Steering Board 127 about how to penalize an import-export timber company.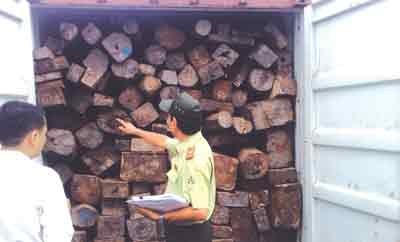 An official of HCMC Market Management Board checks the first container of timber at Cat Lai Port. (Photo: SGGP)
The Dai Phuoc import-export wood company in Hoc Mon District imported a shipment of timber from Cambodia in 2007.
At the time, the customs agency in the Mekong Delta province of An Giang said the containers were exempt from being checked as the company claimed they stored a type of wood not requiring inspection.
However, when Dai Phuoc later exported the batches of wood to China, HCM City police learned that the company had in fact falsified the original import documents from Cambodia.
The HCM City Department of Market Management and city Customs conducted an investigation on one container and verified the wood inside was not the same as what the company had claimed.
When importing the timber from Cambodia, the Dai Phuoc Company had stated on its proof of origin documents that the wood was a type of rectangular kingwood less than 25cm thick. However, a check of the logs revealed they were in fact round and more than 25cm thick, indicating they may have come from a protected forest area where logging is banned.
Concerned agencies therefore agreed that the containers should be kept for further investigation and to determine penalties to the company.
At a meeting to discuss how to impose such penalties, local police, Market Management officials and forest rangers recommended that a total of 10 containers of the wood should be inspected. The HCM City customs department disagreed, however.
The deputy head of the city's customs agency, Nguyen Trong Hung, said the Ministry of Agriculture and Rural Development said there was no need to inspect 10 containers and that the company should be penalized based on just the one detected violation. He said police in the Mekong Delta province of Tien Giang had dealt with a similar case in the same manner.
Market Management officials responded that it was necessary to check at least 10 containers because the law stipulates that penalties differ based on how much illegal wood is being imported or exported.
The city People's Committee convened two meetings but failed to resolve the issue. It then transferred the case to the Steering Committee 127/TW.
The steering committee has proposed that the government should inspect all 10 containers, while the Government Office has sent a dispatch from Deputy Prime Minister Nguyen Sinh Hung saying that agencies should clear away the containers if Dai Phuoc can present documentation proving the origin of the timber.
In light of the opposing guidelines from Steering Committee 127/TW and the Government Office, the city People's Committee is now requesting that the government issue a final ruling on the case.