The Customs Division at Tan Son Nhat International Airport last night coordinated with the HCMC Customs Department and Police Department to spot and seize 336 kilograms of dried 'khat' leaf containing cathinone, a strong drug banned from using in medicine and social life.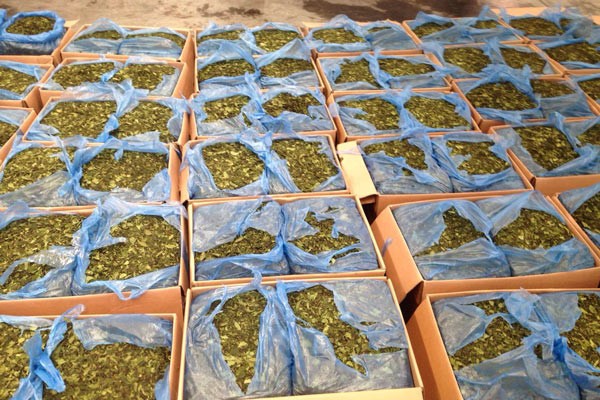 Boxes of dried Khat leaf detained at Tan Son Nhat Airport (Photo: SGGP)
The coca leaf consignment was about to be exported to Europe and the U.S. by a Vietnamese business.
 
Previously, the agencies also worked together to prevent five cases of illegal transport of dried Khat totaling over 1.1 tons including four imports from Africa and one export to the U.S.
 
According to authorized agencies, some businesses have failed to export dried Khat to the U.S. under the name of henna leaf originating from Vietnam.
 
Investigation expansion has uncovered other 100 kilograms of Khat imported to Vietnam by a firm run by an African.
If the one ton of Khat had been smoothly transported to European nations or the U.S., it would have brought a value of over US$2.2 million.
 
Authorized agencies have continued investigation to clarify the case and related objects.