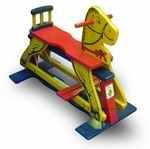 Such wooden toys must have content of formaldehyde under 80mg/kg
Toys should to meet national technology standards in order to be sold on the market, according to a new decree issued by the Ministry of Science and Technology.
Under the new decree, from April 15, 2010, imported or domestically made toys must satisfy minimum legal standards, such as electricity output should not exceed 24 volts nor should products contain any hazardous substances like formaldehyde, a potentially cancer-causing substance.
As confirmed by the Ministry, the manufacture or sale of wooden toys with an average release content of formaldehyde more than 80 mg/kg is not allowed in Vietnam.