The Hanoi People's Court opened a trial on October 26 for six ex-railway officials accused of abusing power while performing their duties.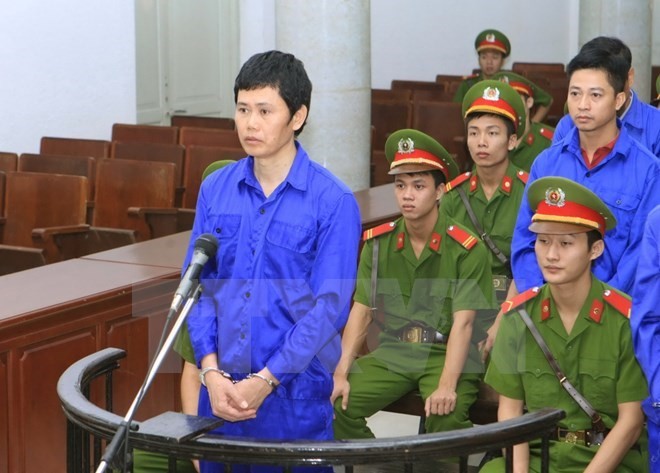 Pham Hai Bang, RPMU former deputy director at the court. (Source: VNA)
The six are Pham Hai Bang, former deputy director of the Railway Project Management Unit (RPMU) under the Vietnam Railways Corporation (VNR); Tran Van Luc, former director of the RPMU; Tran Quoc Dong, former Deputy Director General of the VNR and former director of the RPMU; Nguyen Van Hieu, former RPMU director; and Pham Quang Duy, former deputy director of the RPMU; and Nguyen Nam Thai, former head of project implementation section 3 under the RPMU.
According to the indictment, from September 2009-February 2014, Bang, the then director of the the city's Urban Railway Construction Project (Line 1) , requested financial aid from the Japan Transportation Consultants Inc. (JTC), which led a consultancy joint venture of Vietnamese and Japanese companies for the project. JTC then transferred a total of 11 billion VND (493,716 USD) to Bang, Thai and Duy.
The three men spent the amount on various purposes for both collective and individual benefits. The spending was not documented.
An investigation proved that Bang reported all his wrongdoings to the RPMU directors of different tenures – Luc (1999-2009), Dong (2009-June 2011) and Hieu (from 2011) – without receiving any order to cease. Bang used part of the sum from the JTC to give Luc 100 million VND (4,499 USD), Dong 30 million VND (1,349 USD) and Hieu 50 million VND (2,241 USD) in bribes.
At the trial court, Bang said the project to build the 28-kilometre railroad from Yen Vien to Ngoc Hoi had an initial contract value of 320 billion VND (14.35 million USD), which was later adjusted to be eight-percent higher due to implementation difficulties.
The adjustment was included in a contract appendix, however, an RPMU official, who Bang has named as Duy, still took a bribe from the JTC.
Bang denied asking the JTC for financial support, despite evidence of receiving the money himself.
Regarding the undocumented 11-billion-VND, Bang claims it was the responsibility of the JTC that the RPMU had paid for previously.
The trial runs until October 27. Other former VNR heads were also found to be involved in the case, but will be judged in future trials.-VNA