The recent trial of the four people sentenced to jail for "acting to overthrow the people's government" has attracted widespread public interest. After the trial ended, many people wrote to SGGP concurring with the judgment. Their refrain is that those who abuse freedom and democracy to act against the nation's interests must be punished.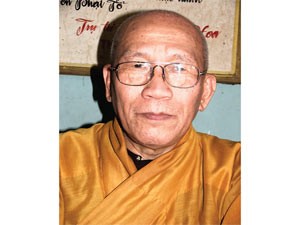 The Most Venerable Thich Nhu Niem

The Most Venerable Thich Nhu Niem,

deputy head of HCM City Buddhist Chapter's Executive Council:
The convicts deserve to be condemned given what they have done. In my opinion, democracy is built and perfected on the basis of the general will and aspiration of all classes of people in society. Those who take unfair advantage of freedom and democracy to act against the country and people must be subject to strict punishment.

I think the trial has reassured the public, who want to live and work peacefully and hate actions destabilize society. To me, the sentences given to the four [Le Cong Dinh, Tran Huynh Duy Thuc, Le Thang Long and Nguyen Tien Trung] are appropriate.
The hearing can be seen a warning for those who attempt to abuse the right of speech to committee law-breaking acts.
Tran Quang (Photo: SGGP)
Tran Quang, a young intellectual in Binh An Ward, District 2, HCMC:
As a young intellectual working in the city, I have closely followed the trial of former lawyer Le Cong Dinh, one of the four convicted. As a lawyer, he should have respected the law and not committed such acts. But he allowed himself to be instigated by reactionary organizations to carry out acts against the State.
 
Any attempt to change the current system can be seen as an unforgivable crime, since the peaceful and happy life people are enjoying now has been built on the great sacrifices of many past generations. He should have understood this.
 
I know Mr Dinh admitted his offense in court and his admission proved that the investigation agency arrested the right people and the court gave the right sentence.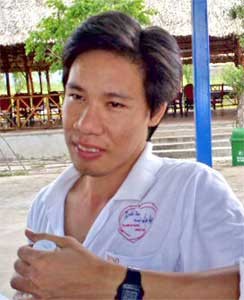 Nguyen Dang Hieu (Photo: SGGP) 
Nguyen Dang Hieu, a student at the Vocational Training College, 8 Nguyen Chi Thanh Street, District 6, HCMC:
All four convicts are persons with high education and social standing. The State has never illtreated them. Therefore, their acts against the State is completely unacceptable.
 
In my opinion, their arguments that they wanted to build a new, better regime and a new society in which there is no corruption and inequality is simply a sophism. A patriot can contribute to the building of such a regime and society, but not in the manner of Dinh's and his accomplices.
 
Their acts were against the patriotic tradition of our nation and have received appropriate punishment. I hope while serving their terms, they will seriously consider what they have done, be conscious of their wrongdoings, and build a lifestyle that is correct and useful to the country.