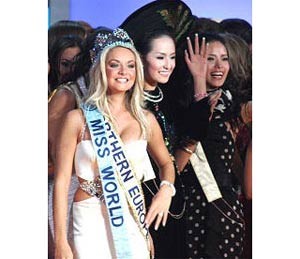 Miss Viet Nam Mai Phuong Thuy (C) stands next to Miss World 2006.
Dispute of copyright violation between the two biggest TV stations in Viet Nam, VTV and VTC, has been stamped out after a meeting of the two sides.
Thanks to the two sides' strict observance of copyright law, VTC has promptly resolved the case in fairness and goodwill, said Mr. Luu Hoang Van, Director of the VTC's Southern Branch in Ho Chi Minh City on Sunday.
The Miss World Pageant has led to allegations of copyright violation between the two biggest TV stations in Viet Nam, the national television network VTV and the Vietnam Multimedia Corporation (VTC).
TV Plus Company signed a contract with Zeal TV in Britain to be the sole broadcaster of the Miss World finale in Viet Nam. The company, together with VTV's Television Advertisement Centre, had a plan to broadcast the show on VTV3.
However, later on the same day, VTC broadcast the show on its VTC1 channel. Right after the program broadcast on VTC1, VTV posted the information on its official website accusing VTC of "seriously violating Vietnam's regulations on copyrights".
While awareness of and actions toward copyright protection as well as intellectual property among Vietnamese enterprises and state bodies have been positively changing, the case proved to be a lesson for local agencies to be more careful in broadcasting international shows.
Vietnam is at the final stage of being admitted to the WTO and commitments to copyright protection have been highlighted during the process.