Police in the southern province of Dong Nai on Saturday proposed to the People's Procuracy to prosecute two offenders for transporting and circulating counterfeit currency notes.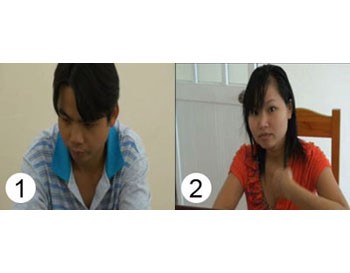 Luo Zhen Bin (photo 1) and Dang Thi Lien (photo 2) (Source: Thanh Nien)
Luo Zhen Bin, a Chinese man and Dang Thi Lien, a Vietnamese woman, who are living together in Hiep Phuoc Commune in Nhon Trach District of Dong Nai Province have been dealing with fake counterfeit currency for some time.
Luo Zhen Bin regularly travelled to and fro between Vietnam and China border, bringing in counterfeit currency from China into Vietnam for circulation in the market.
Since July last year, Bin has transported a total of 1,600 notes of CNY100 denomination, of which they have circulated 442 notes for VND97 million (US$4,600).
At the end of September last year, Lien brought 300 notes to Moc Bai Border Gate in Tay Ninh Province to convert into VND54 million.
One month later she converted 100 notes at a jewellery shop in An Phu Commune in Thuan An town of Binh Duong Province for VND30 million.
At the same time, Bin arrived at the same shop to change 158 notes, but was arrested by the police. However, Bin managed to get away after producing counterfeit documents.
He then returned to China to bring back another 1,000 notes of CNY30,000 denomination. Bin and Lien together brought 200 notes to sell at a jewellery shop in Dai Phuoc Commune of Nhon Trach District in Dong Nai Province and were arrested.
After searching their house, police officials seized 1,054 fake Yuan Renminbi notes together with several fake documents.
The notes being brought in by both these people were of superior counterfeit quality and could not be detected by normal cash counting machines.