Police in the northern province of Hai Phong on Monday arrested 2 dangerous criminals who shot dead a private first class officer and injured a senior police officer of sergeant major rank, who were on patrol duty at that time.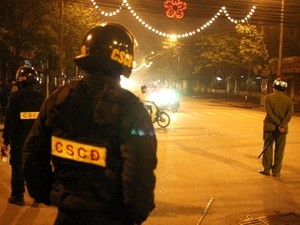 Police on patrol duty on Hai Phong City streets
After a swift and intensive hunt for the two killers, the Hai Phong police arrested 25-year-old Hoang Van Nam, hailing from Dong Trieu District in the northern province of Quang Ninh Province and 27-year-old Do Van Son, hailing from Thuy Nguyen District of Hai Phong Province, for shooting at the two police officers who were patrolling on their official motorbikes.
Both criminals have been on the police wanted list for murder for sometime.
Colonel Do Huu Ca, director of the Hai Phong Police Station said that while patrolling in Thuong Ly Ward in Hong Bang District, private first class officer Do Dang Long and sergeant major Nguyen Phu Kien found two suspicious looking young men speeding on the street on their motorbike. The police officers signaled to them to stop, but they sped away.
The officers gave chase and when they were crossing the Binh Bridge, the man sitting at the back of the bike turned and fired at them. Private first class Long was driving and sergeant major Kien was sitting behind him. Both Long and Kien were injured and taken to the Viet Tiep Hospital.
Officer Long succumbed to bullet injuries in hospital, while Kien is still under observation.
Both Nam and Son were wanted criminals, and the police in Hai Phong City was determined to catch them. They swiftly set up 5 separate teams to surround areas and close in on the two murderers. 
At 4:30 am they arrested Nam and Son in Thuy Nguyen District. The police seized a K59 gun, a shotgun, 6 bullets and several other hand weapons hidden in their motorbike.
The Hai Phong Police Department has decided to posthumously promote Long to the post of sergeant, to honor his death in action. The Policy Department under the Ministry of Public Security has sent VND30 million (US$1,430) from the police support fund to Long's family.