The Gia Lai Province Police August 14 prosecuted two journalists for property extortion after they allegedly blackmailed a businessman to hush up a story on violations committed by his company.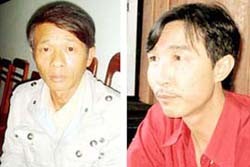 Le Hai (L) and Le Xuan Hai (Photo: Doi Song & Phap Luat)
They are Le Hai, 47, a correspondent for Kinh Te Nong Thon (Rural Economy Times) magazine and his alleged accomplice, Le Xuan Hai, 46, from Kinh Te Hop Tac Vietnam (Economy & Cooperation of Vietnam) newspaper.
After Doan Duc Lap, director of Auto Transport Co. Ltd., accused the two reporters, the province's police arrested Le Hai while he was receiving VND100 million from Mr Lap on August 4.
Related article:
Journalist arrested for blackmailing businessman