On Wednesday, Quang Binh Province People's Court began the first instance trial of two people allegedly involved in the deadly ferry incident in Quang Hai Commune, Quang Trach District, Quang Binh Province on January 25. The incident killed 42 passengers.

Nguyen Minh Mau, 31, was charged with "violating regulations on controlling waterway means of transportation;" and Nguyen Xuan Quy, 33, was charged with "assigning unqualified pilots to control waterway means of transportation," based on Articles 212 and 215 of the Criminal Code.

It was reported at the court that at 7am. on the last day of the Lunar Year of the Rat (January 25, 2008), Mau piloted a ferry transporting 78 locals, mostly women and children, to Dien market on the opposite bank of Gianh River, Quang Thanh Commune, to shop for some food for the Tet festivities.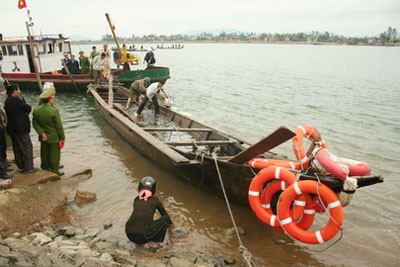 (File photo) The wrecked ferry boat. It could only carry 12 passengers at most.
The ill-fated ferry managed just 20 meters before sinking. The incident took the lives of 42 passengers.

The owner of the ferry was Nguyen Xuan Quy.

According to registration papers dated December 25, 2008 produced by Quy, the ferry could carry only 12 passengers at most.

More than 100 people, mostly relatives of the victims and surviving passengers of the ferry, were in attendance at the court.