Police in the northern province of Quang Ninh yesterday, October 4, said they have arrested two persons in connection with the tragic boat collision in Ha Long Bay on October 3 that killed five tourists from Taiwan, including a nine-year-old girl.
The two persons detained by police authorities are Mac Van Duong, captain of Paradise QN 6688 boat that was carrying 18 tourists from Taiwan (China) , and Trinh Quoc Hai, captain of Dong Phong 2 tourist boat number QN 1402.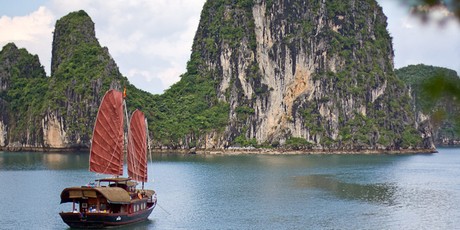 Ha Long Bay (Photo: SGGP)
Dr. Bui Minh Chinh, head of the faculty for treatment of foreigners at the Bai Chay General Hospital, said by the evening of October 4 most of the rescued victims had been discharged and only two persons, Ms. Chen Tseng Yun Yu and Ms. Chen Ming Yu were still hospitalized and being treated for pneumonia after falling into the sea.
Quang Ninh authorities are working with a Taiwanese agency in Hanoi to take the bodies of the dead victims back to their homes, as well as clear life insurance payment to families of the dead.
On October 3, the boat carrying 18 tourists from Taiwan (China) collided with the Dong Phong 02 boat while returning from the Sung Sot Cave in Ha Long Bay. Five people were killed and their bodies are being preserved at the Bai Chay Hospital.
The remaining thirteen survivors are resting at a hotel and receiving good medical care from local health officials.
Last February, twelve people from nine countries were killed when their tour boat Truong Hai 06 sank at night in Ha Long Bay, while they all were asleep in their cabins.
Ha Long Bay is located about 100 miles east of Hanoi, and has been a UNESCO Heritage Site since 1994 and is world-renowned for its 1,600 island and islets as well as its towering limestone pillars.