Dinh Nguyen Kha from Long An Province and Nguyen Phuong Uyen from Binh Thuan Province are being held in custody for four months in connection with indulging in anti-state propaganda.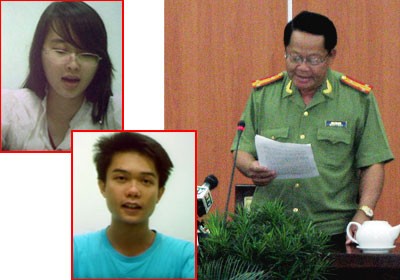 Nguyen Phuong Uyen (white shirt) and Dinh Nguyen Kha (blue shirt) are both in police custody (Photo: SGGP)
This was announced at a press conference on November 3 organized by the HCMC Department of Information and Communications, the HCMC Police Department and Long An Province Police Department.
Colonel Nguyen Sau, head of the Police Investigation Agency in Long An Province, said that 24-year-old Dinh Nguyen Kha and 20-year-old Nguyen Phuong Uyen befriended Nguyen Thien Thanh over the Internet in April this year.
Thanh introduced himself as a member of an organization called 'Tuoi Tre Yeu Nuoc' (Patriotic Youth) which conducted propaganda activities against the State of the Socialist Republic of Vietnam.
Following instructions from Thanh, Kha and Uyen on many occasions indulged in many anti-state propaganda activities.
Uyen prepared posters which had a yellow background and three horizontal red stripes, depicting the flag of the earlier regime, and wrote derogatory slogans on sheets of white cloth denouncing the government of the Socialist Republic of Vietnam.
She then pasted these posters and cloth pieces at strategically visible locations on Highway 28 in Ham Thuan Bac District in Binh Thuan Province and photographed them with her cell phone on August 28.
On the same day, Uyen sent 19 photos to Thanh, who used them for posting on the website 'Tuoi Tre Yeu Nuoc' and on his Facebook page.
Similarly, Kha also pasted such hostile material in some places in Long An Province on September 1. Later he also photographed them and sent them to Thanh to post on the organization's website.
At the end of September, Nguyen Thien Thanh introduced Kha to Uyen so that they could work together to distribute leaflets with distorted and falsified content that maligned the State and the Party and showed the government policies in a bad light, especially on religion and property.
The leaflets also had derogatory views of the Hoang Sa (Paracel) and Truong Sa (Spratly) Islands and the mainland border between Vietnam and China.
The contents of the leaflets also decried the Communist Party of Vietnam stating it did not care for the citizens and incited people to openly demonstrate against the Party and the State of the Socialist Republic of Vietnam.
Kha gave Uyen VND2.5 million (US$120) to change into denomination notes of VND5,000, VND10,000 and VND20,000 bills. These notes were then glued on the backs of the leaflets and laid on streets.
Early morning of October 10, Kha drove Uyen to An Suong Flyover in District 12 of HCMC with a home-made carton full of leaflets inside to hang on the railing of the flyover.
The carton was attached with a timer and at 7.15am precisely the carton burst open to drop the leaflets. Uyen filmed the scene and blamed some organisation for the act.
On the following day, she wrote an article describing the scene and sent it to Thanh via her email and Facebook page.
Assisted by the Ministry of Public Security, the Police Departments of HCMC and Long An Province investigated and found Kha and Phuong Uyen to be the culprits.
On October 19, the Police Department in Long An Province decided to prosecute and hold Kha and Uyen in custody for four months to investigate the case further.
Kha admitted to the police that he had learnt the art of making dynamite and that Thanh had instructed him to manufacture bombs.
Kha said that Thanh was preparing to task him and another member of the Tuoi Tre Yeu Nuoc organization to lay bombs at the statue of late President Ho Chi Minh in Can Tho City.
Kha and Uyen have now pleaded guilty and asked for leniency in their sentence.