Inspectors from the Ministry of Culture, Sports and Tourism on Oct. 23 examined compliance to computer software-related intellectual property rights at Internet shops in Hanoi and discovered infringements at a game center.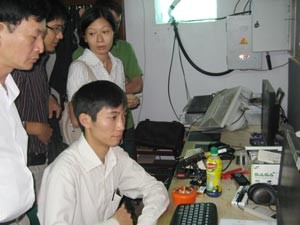 Inspectors check out computers at the CYZONE game center in Hanoi Oct. 23 (Photo: Pham Thanh)
CYZONE, a crowded game center in the capital, located in Dong Da District, was found using a large number of counterfeit software on computers.
The inspectors checked more than 100 computers and found out a large number of unlicensed Microsoft Windows and Microsoft Office programs.
Vu Thanh Cong, director of Vietnam Computer and Digital Entertainment Co. Ltd. (the owner of CYZONE) told the task force that his company deliberately copied unpermitted Windows XP for use in servers that are connected to 160 work stations.
It was the first time inspectors from the ministry raided Internet shops to examine the use of unlicensed computer software.
Last week, while checking out a company in Bien Hoa City, the southern province of Dong Nai, authorities found that most copies of the popular domestic Lac Viet dictionary in the computers there being used without a license.
Facing a fact that the Lac Viet dictionary is widely copied without a license, Lac Viet has lined up with the government in the fight against software piracy,
Lac Viet CEO Ha Than said: "Lac Viet has participated in various initiatives launched by the Business Software Alliance, and in the formulation of policies on software copyright protection in Vietnam, as well as engaged in the delivery of training on software-related infringement audit for inspectors from the Ministry of Culture, Sports and Tourism."
Mr. Vu Xuan Thanh, the ministry's chief inspector, said inspection teams would continue to check more Internet and on-line game shops across the country.
He added that inspectors would also examine both large corporations and small businesses in various economic sectors nationwide, as they have been doing, to protect the software-related intellectual property rights.