An inspection task force discovered copyright-related violations from computers at a Japanese firm and a Korean company in Ha Noi on Wednesday and Thursday.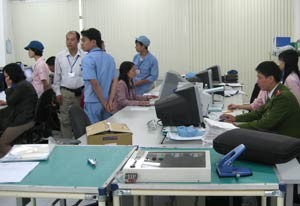 Inspectors check computers at ASTI Hanoi Electronics on Nov. 19 (Photo: Hoa Pham)
The inspectors, who come from the Ministry of Public Security and Ministry of Culture, Sports and Tourism, raided on Wednesday ASTI Hanoi Electronics, a Japanese-invested manufacturer of printer electronic boards and electric cables located in Me Linh District.
Conducting the surprise check on computers, the inspection team found copying, installation and use of unlicensed software programs, mostly applications widely used such as Windows XP, Microsoft Office, Lac Viet mtd 2002 dictionary, and Vietkey keyboard software.
Mr. Suzuki Yuji, deputy general director of the company, admitted the use of computers installed with software programs without permission of the owners. He also signed the inspection minutes. Company management promised to purchase licenses for the pirated software programs.
The inspection force estimated that the use of illegal software at ASTI Hanoi Electronics is valued at about VND550 million in all.
Another raid was conducted on Thursday at LS – Vina Industrial Systems, a Korean joint venture company in Dong Anh District. A total of 58 computers were inspected and found containing pirated software programs such as Windows XP, Microsoft Office, Lac Viet mtd 2002 dictionary, Vietkey, and Autocad.
Company deputy director Bui Bao Hung signed the inspection minutes in confession of the infringements of the intellectual property rights. The inspectors unveiled that the use of pirated software there may reach almost VND1 billion.
The inspectors are working on fines against the two companies.
Mr. Vu Xuan Thanh, chief inspector at the Ministry of Culture, Sports and Tourism, says, "The Ministerial Inspectorate will keep pushing software inspection operations on all forms of businesses nationwide. The Ministry of Culture, Sports and Tourism has filed a decree on copyright-related civil penalties, which include a penalty of up to VND500 million."
So far this year, inspectors from the ministry and the Ministry of Public Security have conducted several raids to businesses nationwide in the fight against software piracy.