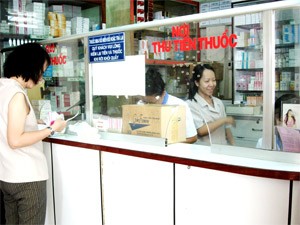 Phamacies must have a receipt or a VDA registration number (Photo: Uyen Phuong)
The Vietnam Drug Administration (VDA) has told all the provincial and city health departments to crack down on illegal trading of medicines, especially imported drugs for which there is no receipt.

VDA chief Cao Minh Quang says importers caught bringing in pharmaceuticals without a permit will be fined and lose their license, permanently if the offence is serious enough.
He said health inspectors had found many instances of illegally imported medicines being traded in the marketplace.
In one case, 45 containers with hundreds of different medicines were found at three My Chau pharmacies but the owner failed to produce a receipt or a VDA registration number for the drugs.