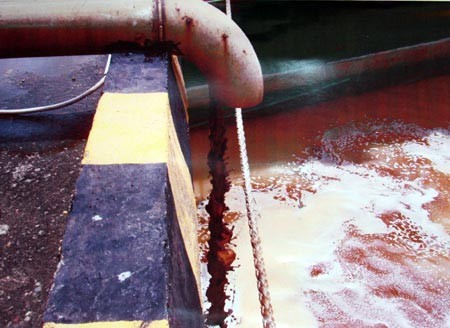 Vedan releases untreated wastewater into Thi Vai River
Taiwanese MSG-maker Vedan admitted to polluting an 11 km section of the Thi Vai River before scientific evidence was presented confirming the fact, at a meeting on December 11 in Hanoi.
The meeting was held by the Vietnam Environment Administration (VEA), part of the Ministry of Natural Resources and Environment (MoNRE), to announce the degree and scope of pollution caused by Vedan Vietnam to the Thi Vai River.
The Institute for Natural Resources and Environment and Vietnam Academy of Science and Technology presented findings that Vedan was the chief culprit in polluting the river; causing losses for farmers in districts Nhon Trach and Long Thanh in the southern provinces of Dong Nai, district Tan Thanh in the southern province of Ba Ria-Vung Tau, and district Can Gio in Ho Chi Minh City.
Vedan once again disputed the conclusion, however, that it caused 89 percent of pollution in the river. It argued that the Institute for Natural Resources and Environment and concerned agencies need to further assess its responsibility regarding the river's pollution.
The company has pledged to build an effluent treatment system in December and has paid an environment protection fee of VND127 billion. It is also cooperating with relevant agencies to compensate the economic and environmental losses of farmers who live on Thi Vai River.
Related article:
Vedan again rejects reparation order