Vedan Vietnam lawyer Hoang Nhu Vinh said at press conference December 8 that the company had not signed an agreement to compensate farmers as it disagreed with findings that Vedan was the chief culprit in polluting the Thi Vai River.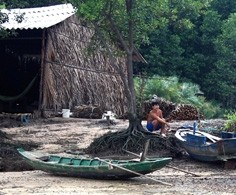 Farmers can't earn their living because Thi Vai River is so polluted that no aquatic animal can live in. They wait for compensation to do another job ( Photo: Lao dong)
Taiwanese MSG-maker Vedan once again dismissed research by the Institute for Natural Resources and Environment presented at a December 7 meeting showing the company was responsible for millions of dollars in losses to southern residents.
Vedan disagrees with the institute's findings on how much farmers in the provinces of Dong Nai and Ba Ria –Vung Tau have suffered financially due to wastewater discharge from the company.
Vedan representatives argue that the research was conducted in February 2008, while the company was only discovered releasing untreated effluent in September of that year.
Furthermore, they said, the survey was done in February during the dry season and therefore didn't reflect the true conditions of the river.
Mr. Vinh said Vedan would send an official letter of protest to the Vietnam Environment Administration and the Ministry of Natural Resources and Environment if it received a direct order at the next meeting December 9 to compensate residents.
On  September 25, Vedan Vietnam's General Director Kun Hsiang Yang officially refused to compensate farmers in Binh Duong, Dong Nai and Ba Ria-Vung Tau VND569.5 billion (US$31.6 million) for the losses it caused in polluting the Thi Vai River.
He argued that the determination of damages caused by the company had to be based on clear scientific evidence.
Yet scientists say they have carried out systematic tests using state-of-the-art equipment over a long period, and determined the cost owed to residents based on sound data.
Related articles:
Vedan refuses $31m compensation demand