HCHM City authorities are set to help farmers in Can Gio District take legal action against Vedan Vietnam for polluting a local river and hurting their livelihoods.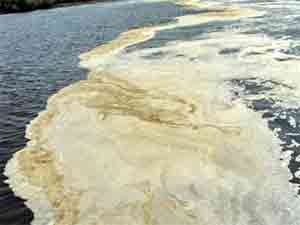 A section of Thi Vai River polluted by untreated wastewater discharged by Vedan Vietnam
At a meeting held on October 21 the district farmers' association, the city Departments of Natural Resources and Environment and Agriculture and Rural Development, and Lawyers Association, outlined a plan to sue the MSG maker.

The farmers' association said it had received 245 petitions from members in Thanh An Commune for suing Vedan for polluting the Thi Vai River by dumping hundreds of thousands of cubic meters of untreated wastewater every month for many years.

The resulting pollution has caused huge losses to the farmers who depend on fishing, breeding aquatic creatures, and building dams for their livelihood.

In 1995 the river water began to change its color and emanate a disgusting smell, and shrimps and fish raised by farmers were decimated, all ostensibly due to the pollution.

By the end of that year Vedan had to pay a compensation of VND1.8 billion (US$107,000 at today's exchange rates) to the farmers.

But the pollution continued, killing more of the farmers' shrimps and fish and leading them to the brink of bankruptcy. Farmers in Thuan An have piled up bank debts of hundreds of millions of dong.

Deputy chairman of the HCMC Farmers' Association, Nguyen Van Phung, said the commune used to have 500 households involved in aquaculture, but now just 170 remain. He promised to help the farmers with the lawsuit.

Nguyen Van Hau of the HCMC Lawyers Association said city authorities would help the farmers adduce evidence for their losses after the Thi Vai's pollution and for the ill-effects on the health of local residents due to contamination of groundwater by Vedan's effluents.

His association would then help file the suit, he said.