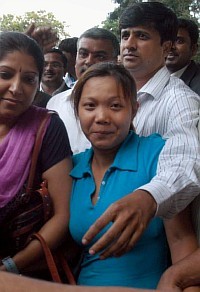 Trang was caught at Bangalore International Aiport on September 24.
24-year-old Vietnamese student Nguyen Thi Trang was caught at the Bangalore International Airport (BIA) on Wednesday night carrying 4.28 kilograms of heroin worth INR 140 millions (US$3 million), reported the Times of India.
900 grams of heroin was concealed in her shoes while the rest was hidden under a neatly stitched false bottom of her suitcase.
Trang claimed some entrepreneurs at Delhi financed her trip and paid her INR 50,000 (US$1,125) to carry the heroin to Thailand and that she received the heroin from a Nigerian man.
Inspectors suspect the contraband comes from Afghanistan.