U.S. citizen Nguyen Thuong Cuc, 58, a member of Nguyen Huu Chanh's organization, was freed and left Viet Nam early yesterday morning.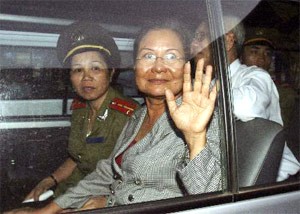 Nguyen Thuong Cuc
At her trial last Friday, the Ho Chi Minh City People's Court sentenced Ms. Cuc, who goes by the name Foshee Thuong Nguyen in the U.S., to 15 months confinement for plotting against the Vietnamese government and deportation within ten days of her release from prison after serving the sentence.
 
After her sentencing, Ms. Cuc asked the court for leniency and expressed regret for her actions. She pointed out that she was old and in poor health, and added that she had not appealed her conviction.
 
The court granted her request, reduced her prison sentence to 29 days and ordered that she be expelled from Viet Nam.
Related articles:
Terrorist Trial not Forced from Outside: HCM City People's Court
Three Americans, Four Vietnamese on Trial for Terror
Three Americans, Four Vietnamese Face Terrorism Charges