Vietnamese authorities yesterday deported a Vietnamese-American man who, following his arrest last month, has admitted to belonging to the militant Viet Tan Party and to following its orders to "sabotage the Vietnamese State".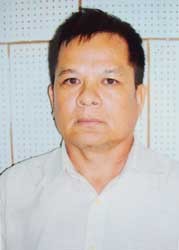 Truong Leon (Truong Van Sy)
Truong Leon (Vietnamese name: Truong Van Sy), 54 years old, was taken to Ho Chi Minh City's Tan Son Nhat International Airport, to be flown to the US. This expulsion was witnessed by officials from both the Vietnamese Ministry of Public Security and the US Consulate General in HCMC.
Vietnamese police said Truong Leon's deportation and thus exemption from criminal prosecution stems from his cooperation, confession, remorse and his promise to break away from Viet Tan or any similar organization.
"Now that I recognize my action seriously violates Vietnamese laws, I feel deeply regretful that my action has affected the security of the Vietnamese state and the peace of the people…I wish to be granted clemency to soon reunite with my family in the US. Once there, I promise to never join any organization aimed at sabotaging the Vietnamese state", Truong Leon wrote.
He earlier admitted to belong to the Viet Tan Party (Viet Nam Progress Party), an organization based in the US considered by the Vietnamese government as a terrorist group.
"When I joined Viet Tan, I knew that the predecessor of this party was the National United Front for the Liberation of Viet Nam… that have brought forces and arms into Viet Nam to carry out terrorist activities aimed at overthrowing the Socialist Republic of Viet Nam (SRVN)", Truong Leon earlier told investigators.
He also confessed to receiving orders two times this year to come to Viet Nam to "carry out plots to sabotage the Vietnamese State".
Truong Leon, who is a naturalized US citizen, was arrested in November 17 in HCMC on charges of "terrorism" under article 84 of the current Criminal Code when he was caught red-handed with four others stuffing thousands of anti-state leaflets into envelopes.
Local police seized on the spot nearly 7,000 leaflets issued by Viet Tan containing distorted information aimed at defaming the SRVN and inciting rebellion against its government.
Viet Tan was founded in the US in 1982 by Hoang Co Minh, a former Saigon regime army General, to carry out a counter-revolution, including terrorist tactics, against SRVN.
Viet Tan have frequently sent members to direct underground cells in Viet Nam to assassinate high-ranking SRVN officials in their aim to cause social and political instability.
In related news, Lao Dong newspaper reported that two Vietnamese-Americans, also both Viet Tan members, on Dec. 6 admitted to Vietnamese investigators they had trafficked a handgun into HCMC by order of Viet Tan in a plot to assassinate senior communist officials including security officers in the city.
The couple - Le Van Phan, 55 and his wife Nguyen Thi Thinh, 54 - were arrested on November 23, being caught red-handed at Tan Son Nhat Airport with a Ruger pistol model P85 No 300-76577 and 13 bullets.
They said they were supposed to be contacted by some Viet Tan members who were to receive the weapon.
Related stories:
Terrorists Arrested in Viet Nam with Horde of Anti-State Leaflets
Viet Tan Members Admit to Trafficking Gun to Assassinate Communist Officials