Vietnamese security forces deported Monday three members of the "reactionary and terrorist" Viet Tan Party.

Nguyen Thi Xuan Trang, 35, Mai Huu Bao, 39, and Nguyen Tan Anh, 28, respectively Swiss, American, and Australian citizens, were caught going past the Ministry of Public Security office in Ho Chi Minh City many times. They had also reportedly photographed the place using mobile phones and cameras though it is prohibited.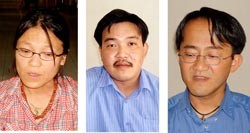 From left: Nguyen Thi Xuan Trang, Nguyen Tan Anh and Mai Huu Bao
On April 3 they arrived in front of the office with large bags and were taken in by security officers.

They told investigators initially that they had hoped to visit Nguyen Quoc Quan, one of the leaders of Viet Tan who is being held at the ministry office for investigation into terrorist acts and illegal entry into Viet Nam using a fake passport last November.

However, confronted with the evidence from their phones and cameras, they admitted they had been instructed to photograph the office by the reactionary group.

Viet Tan was founded in the US in 1982 by Hoang Co Minh, a general in the former Saigon regime, to carry out counter-revolutionary and terrorist acts in Viet Nam.

Last year it sent members to direct underground cells in Viet Nam to assassinate top officials, distribute anti-national leaflets, and carry out terrorist activities. Eleven members of Viet Tan have so far been arrested or deported.