The Supreme People's Court in Ha Noi yesterday reduced jail terms by one year for both Nguyen Van Dai and Le Thi Cong Nhan, who were sentenced last May for spreading propaganda against the Socialist Republic of Viet Nam (SRVN).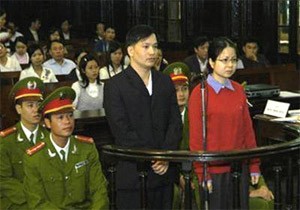 Nguyen Van Dai and Le Thi Cong Nhan stand trial for spreading propaganda against the State
Nguyen Van Dai, 38, thus received a four-year imprisonment and Le Thi Cong Nhan, 28, a three-year sentence. Dai is also required to serve four years of probation and Nhan, three years, following their release.
 
Both Dai and Nhan, Ha Noi residents, were initially sentenced to 5 and 4 years in prison respectively by the Ha Noi People's Court on May 11, 2007.
 
The Ha Noi People's Investigation and Security Department indicted the two on March 6, 2007, for disseminating information against the SRVN and thus violating Article 88 of the Criminal Code.
 
According to the indictment handed down by the Supreme People's Procuracy and the results of the court's hearing, both admitted they used Thien An Law Office in Ha Noi's Hai Ba Trung District to disseminate the information against local authorities, as well as write and circulate documents biased against the Vietnamese State, from 2006 to the day they were arrested.
 
Dai admitted he also held two classes on information against the state at this office, took part in Nguyen Van Ly's anti-state activities and cooperated with other political opportunists.
 
Police seized 121 documents, two hard disk drives, and five computers' files having anti-state content at Dai's home and office.
 
At the appeal hearing, lawyers Tran Lam, Dam Van Hieu, Dang Trong Dung, Bui Quang Nghiem and Le Cong Dinh failed to provide new evidence sufficient to acquit the two defendants.
 
When answering the court's head judge Nguyen Minh Man, Nhan said she had opposed the 12th National Assembly election and was involved in establishing the Viet Nam Progress Party.
 
The jury decided the defendants' actions posed a threat to society because they might promote unfavorable public opinion both within and outside Viet Nam and they directly violated national security laws.
 
The jury also said they took into account the defendants' otherwise clean police records.
Related article:
Law Office Closed For Anti-State Activities