A court in Ha Noi sentenced 11 people to death and 7 others to life imprisonment yesterday for trafficking over 1,250 cakes of heroin weighing around 440 kg from China.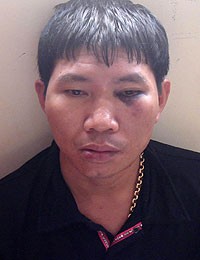 Luong Ngoc Lap
Among the death convicts are ringleader Luong Ngoc Lap, 37 and his right-hand man Pham Cong Danh, 39.
The Hanoi People's Court also jailed three others to 20-year jail terms each.
The ring was uncovered in December 2004 when Chinese police arrested a ring member in Guangxi province and seized 8.5 kilograms of heroin.
The gang, considered to be one of the largest apprehended to date in Viet Nam, operated mainly from the cities of Ha Noi and Hai Phong and the provinces of Son La, Hoa Binh, Bac Giang, Bac Ninh, Lang Son and Quang Ninh northern Viet Nam.
According to prosecutors, the gang would transport up to nine kilos of heroin per trip by car to Lang Son on the border with China. Sometimes, they would make two trips a day every day for a whole week.
Police suspect the gang also had ties with the ecstasy-trafficking gang led by Vietnamese-Australian Nguyen Tuan Khanh, arrested last year.
Under Vietnamese law, trafficking more than 600 grams of heroin is punishable by death or life imprisonment. The smallest amount of smack sold by any of the 21 defendants was 700 grams.
Vietnamese police detected 9,891 cases of drug-related crimes last year, down 19 percent from the year before. As of late 2006, the country had over 160,220 drug addicts, over 70 percent of whom are between 18 and 35 years old, according to statistics from the Ministry of Public Security.