The national flag carrier Vietnam Airlines said it will sue three passengers who 'joked' about a bomb and hold up a flight on Sunday.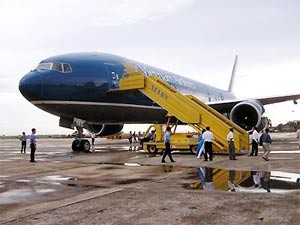 Vietnam Airlines has to postpone its flights for three times during the past five months due to bomb hoaxes. (Photo:TK)
Minutes before Vietnam Airlines VN 783 flight was set to leave Hanoi's Noi Bai Airport for the Ho Chi Minh City on Sunday, three passengers said they carried a bomb in their luggage.
The three passengers included Lam Tan Ngan, 38, from Ho Chi Minh City's District 12 and his entourage Dang Tran Triet and Luu Van Minh. All were intoxicated.
As a result, around 300 passengers were disembarked from the aircraft while security forces and anti-terrorism police rushed to the scene to check luggage and the aircraft, just to find out later on that the aircraft didn't have a bomb or explosive on board.
Vietnam Airlines had its flights postponed for three times during the past five months due to bomb hoaxes, with losses estimated at billions of Viet Nam dong each time.
Chief of Vietnam Airlines' Security Department Mr. Tran Tien Dung said it is necessary to punish the men severely; as such actions are by no means a laughing matter.
Mr. Dinh Viet Son, Director of the Vietnam Civil Aviation Administration's Security Department, said authorities must mete out harsh punishments to the men as an example, adding that such behaviour not only caused loss for Vietnam Airlines but also damaged to the nation's order and security.
The administration recently finished a draft decree on penalties for passenger safety violations in airports and on board aircraft, which states that any false bomb threat or wrong information given by passengers in order to cause a disturbance or terrorize others is considered a violation of aviation safety and will be fined VND20-50 million (US$1,200 to $3,100).
Besides, any act that threatens the safety of passengers, ground staff or airport equipment and any disturbance of airline operation will be also fined VND5-10 million.
The decree is expected to become effective in January 1, 2007.