Customs officers at Noi Bai Airport in Hanoi discovered 50 kg rhino horns in the luggage in the flight numbered KQ 870/28 DEC 16 from Nairobi in Kenya to Hanoi on December 29.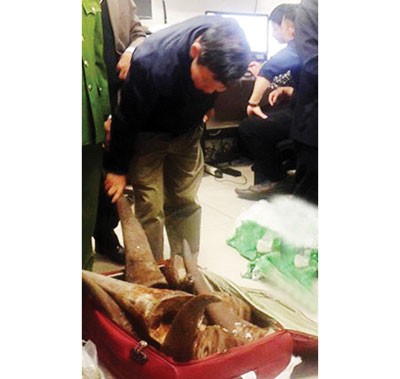 The rhino horns are discovered in luggage transported via air in Noi Bai Airport (Photo: SGGP)
Through collecting information before the flight and through screening, customs & police officers from the department of smuggling prevention called C74 under Vietnamese Ministry of Public Security discovered a suspicious luggage and suitcase numbered TM118344 with the weight of 61.20 kg.
The luggage has no name of receiver. Inside, rhino horns cut into 19 pieces totally weighed 50 kg.
The rhino horns are worth over VND20 billion (US$879,060).
All horns are sealed for further investigation.
Rhino horns are among the goods prohibited from being imported into or exported from Vietnam. Specifically, specimens of white and black rhinos and elephants, as well as products made from their horns, are banned.
Any other animals included in the list of the appendices of the Convention on International Trade in Endangered Species of Wild Flora and Fauna (CITES) are also not to be traded.