Many Vietnamese exporters have incurred losses due to fraud from fake partners in some foreign markets, especially Africa.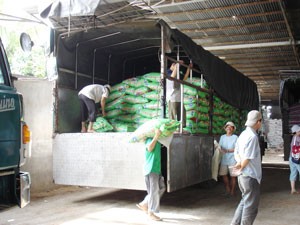 Export cargo in Ho Chi Minh City. Several firms in Vietnam have been cheated of money by various scams as they try to export goods to Africa (Photo:Minh Tri)
A Ho Chi Minh City-based rubber company identified only as V signed a contract with Pakistan's firm so-called Global Trading Corporation to sell 16.4 tons of rubber.
The Pakistani partner agreed to pay 10 percent of the purchase contract's value in advance and the rest would be transferred by Direct Payment term.
However, the Vietnamese firm then could not contact the foreign company to get the rest of the payment.
Vietnam's embassy and trade office in Pakistan eventually found out that there was no company with such name, while the person who transferred the advanced payment vanished without leaving a trace.
The credit institution which received the documents for the shipment is only an overseas money-transfer service shop, not a bank.
Experts said the Vietnamese firm fell victim to the fraud due to their inexperience in doing businesses with foreign companies.
In May 2010, a Federal Trade Commission in Togo asked the Hanoi-based Thanh Nien Vietnam, Ltd. to sign a contract and pay a fee of US$12,000 after placing an order for wheat flour worth $12 million.
The Vietnamese firm was suspicious about the fee, so it asked the trade ministry to investigate, only to find out that there was no such organization in Togo
Ly Quoc Hung, head of the Africa, Western and South Asia Markets Department under the Ministry of Industry and Trade, said the amount of local business falling victim to fake companies are increasing as Vietnamese firms were easily attracted by purchases orders with quick payment terms.
Internet fraud was widespread in Africa and many people would pretend to be state agencies and cheat gullible firms and individuals of large sums of money, Thanh Nien Newspaper quoted Hung as saying.
Statistics show the number of fraud coming from Africa, especially the Western Africa, is increasing in the last two years, reaching 60 cases.
Therefore, many businesses have hesitated to foray into the African market. "We have to travel long distances and deal with a harsh competition from China's firms when entering to the African market. Moreover, there are still many red taps and high risks of fraud," said a director of a plastic firm.
"The administration procedures in African countries usually remain complicated. Thus Vietnamese businesses should be cautious if any African company offers quick payment terms," Le Ngoc Thi, Vietnam's trade counselor in Morocco warned.
"In Africa, most documents are composed in French, so local firms should also be cautious if their African partners send documents in English," Thi said.
As Africa remains a new market for Vietnamese exporters, the Ministry of Industry and Trade warns that domestic businesses should ask their partners to provide detailed information about their company's address, business licenses and address of the bank they opened account.
Vietnam's companies should send the detailed information to the Ministry later for confirmation before entering agreements with the African partners.