Although people are concerned about the recent discovery of clothes from China containing noxious chemicals, a large number of Chinese made clothes are still being smuggled into Vietnam.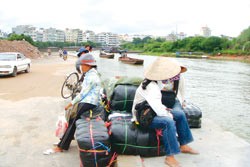 These women are hired to transport smuggled goods from China into Vietnam. (Photo: SGGP)
In Mong Cai town, in the northern province of Quang Ninh, illegal trading between Vietnam and China is mainly done through Bac Luan and Ka Long border gates.
Sai Gon Giai Phong reporters recently visited Bac Luan to uncover this illegal trade.
At the border gate, cheap copies of famous brands, like Lascote, Pierre Cardin, Levis and Armani, are sold.
A couple of Lacoste T-shirts cost just VND70,000. For non-branded clothes, the price is even less at VND15,000 to 20,000 each.
The owner of a clothing stall said that only smuggled goods are so cheap, and did not care if they contained noxious chemicals.
All markets and shops in Mong Cai are flooded with Chinese clothes.
Nguyen Manh Lien, 30, who smuggles clothes from China to Vietnam, said that 100 percent of goods here are smuggled.
In Mong Cai, there are a lot of brokers who help people from Hanoi, Hai Phong or other places to buy Chinese goods.
After counterfeiting passports, brokers will take customers to Dongxing town in Guangxi Province or even to Guangzhou Province, considered as the heaven of Chinese goods, to choose samples and make orders.
Most Chinese dealers have their own transport companies with trucks and porters in Mong Cai and Dongxing. Thus, if Vietnamese, who have become familiar customers, need goods to be delivered home, they just call and their Chinese partners will meet their needs.